Arturia Synclavier V v2.0.2.1891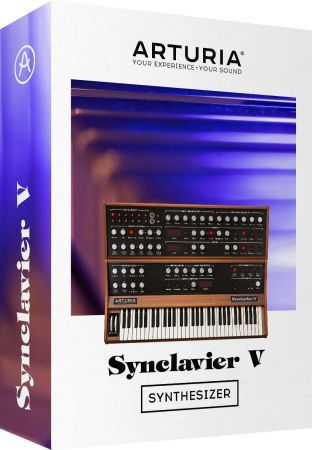 Arturia Synclavier V v2.0.2.1891 | 313 MB
The Synclavier V faithfully recreates the elite digital synthesizer/workstation that started it all, powering some of the biggest hits and film soundtracks of the early '80s with its unique rich, edgy sounds.

Sounds you will only find here
There's simply nothing else like the powerhouse sound of the Synclavier V. No synth arsenal is complete without it.
There's no hint of analog or samples here-this is the sound of unabashed digital synthesis in all its glory. While it can certainly create unique mellow tones, this vintage flagship is more known for its distinctive digital character ranging from edgy to eardrum-ripping brash to intergalactic. It's especially ideal for extended pads and slow cinematic, ambient soundscapes. Plus, we've invested in significant updates that make the Synclavier V a thoroughly modern instrument with sounds that set it-and you-completely apart.
Hundreds of presets from the world's top sound designers tame the unparalleled power of the Synclavier V and place it at all your fingertips for instant inspiration and easy customization.
A programmer's dream
While you'll get tons of love from Synclavier V's presets alone, there's a universe of sonic adventures waiting just beneath the surface whenever you're ready.
The unique sound of the Synclavier V comes from its blend of additive and FM synthesis, with control over 24 additive harmonics on both the carrier and modulation oscillators. Where the original instrument let you mix four uniquely programmed Partials Timbres in a Timbre preset, Arturia's recreation has twelve, boosting your creative possibilities exponentially. The Time Slice engine allows complex evolutions of the sound over time-even several minutes if you want.
Programming the Synclavier V is a study in elegance. Three different interface views let you choose the depth of control that best suits your needs.
The Synclavier V lets you realize the dream of an entire stunning synth orchestra with just one plugin.
Main Features:
Software synthesizer playable through a MIDI keyboard
450 presets sounds
Original programmer + original code = the original Synclavier synthesis engine
Powerful FM (frequency modulation) synthesis
Full additive synthesis:
Time Slice engine for dynamic additive synthesis
Additive waves for both carrier and modulator waveforms
Expanded number of partials to 12 (the original had 4)
Variable bit depths (original was only 8-bit)
High-quality output effects
Algorithmic reverb
50 presets from the original Synclavier library
VST, VST3, AU, AAX, and standalone operation
Support for Native Instruments NKS format
Whats New:
Bug fixes
Saving an user preset after changing its name now correctly updates it instead of creating a new one
Harmonic phases on carrier and modulator don't randomly change anymore when set at maximum values
Windows OS only : sample files with unicode characters can now be drag-and-dropped and loaded on sample player.