Autodesk HSMWorks 2019 R1.42987 Win64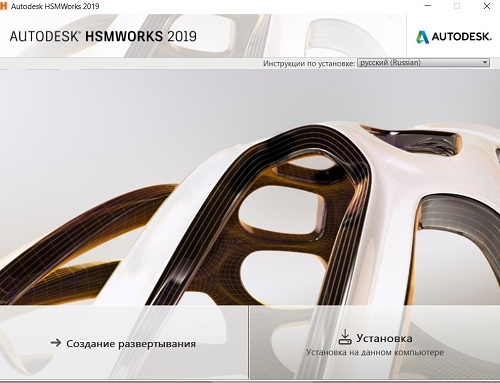 Autodesk HSMWorks 2019 R1.42987 Win64 | 564 MB
HSMworks (High Speed ??Machining) – a high-speed processing module for SolidWorks.
HSMWorks is designed from the ground up for working inside SolidWorks, and is a logical extension of the SolidWorks parametric environment in CAM strategies.
Experienced users of SolidWorks will feel at home working with HSMWork, and will be able to create high-quality processing programs within a few minutes.
New users will be able to take advantage of 2D and 3D CAD capabilities in SolidWorks and implement design and design solutions in CAM processing, which will lead to improved design quality and reduced development time for the product.
The interface of HSMWorks and SolidWorks is the same for all users – CAD and CAM. If you know SolidWorks, getting to know HSMWorks will be easy and successful. HSMWorks provides the ability to obtain high performance with the optimal path of the tool. For handlers, HSMWorks allows you to create the most advanced, most efficient CAM programs in a shorter time and with the least effort.
HSMWorks is a new generation CAM system that can reduce the development time of control programs and machining time on the CNC machine many times over existing CAM systems.
Year / Release Date: 2018
Version: R1 Build 42987
Developer: Autodesk
Developer website: https://www.autodesk.com
Bit depth: 64bit
Language: English + Russian
Tabletka: present
System requirements: Microsoft® Windows® 7,8,10 (64-bit)
A multi-core processor with 64-bit architecture,
for example AMD Phenom ™ II or Intel Core ™ i7
At least 8 GB of RAM
HSMWorks 2019 is compatible with 2016, 2017, 2018 and 2019 versions of SOLIDWORKS
What NEws?
This release contains a number of important fixes and improvements, as identified below.
New Features:
Added Both-Ways Adaptive Clearing (#6890)
Added support for 2D Adaptive Clearing (#7768)
Added Tool Orientation to Probing (#9410)
Added support for tapered walls in 2D Adaptive (#9201)
Added API method to get objects in a job (#9320)
Added API method to identify whether an object is a pattern (#9321)
Added support for setting stock for HSMWorks API (#8723)
Changes:
Fixed compensation in control/wear for turning ID machining. (#7495)
Fixed issue where duplicating an operation within a job causes operation to be unnecessarily marked dirty. (#9462)
Fixed wrong multi-axis handling for feed optimization. (#9509)
Changed guided deep drilling to use retract feedrate (#9310)
Fixed issue where tool is not always taken to limit when rewind is required (#9559)
Fixed out of memory error when using nested patterns with the Excel Setup Sheet (#3115)
Fixed issue where rest machining does not calculate when preceded by a manual NC operation in turning operations (#9499)
Toolpath:
Fixed bad ordering issue when using both ways for Adaptive Clearing. (#9580)
Fixed fragmentation of circular cutting passes and missing potential missing cut passes for turning when using rest machining. (#9529)
Fixed wrong toolpath issue when using negative radial stock to leave for turning. (#9667)
Fixed issue where the same cutting pass could be repeated when using rest machining for turning. (#9537)
Improved rest machining quality for Turning Profile/Grooving. (#8385)
Fixed potential issue where Turning Profile could ignore an area of the given part. (#9574)
Fixed wrong ordering issue for 2D Contour. (#9415)
Fixed wrong toolpath issue for Turning Grooving. (#9489)
Fixed potential generation failure for Adaptive Clearing. (#9361)
Fixed potential generation failure for Adaptive Clearing. (#9483)
Fixed issue where lead would hit stock for Turning Grooving. (#9394)
Fixed issue where cutting feedrate would be used instead of lead/in/out feedrate for certain linking moves for Adaptive Clearing. (#8845)
Fixed missing compensation in control when using back trimming of cutting passes for 2D Contour. (#9391)
Fixed preserve order when using roughing passes for 2D Contour/Pocket. (#9290)
Fixed potential lead-out issue when using back cutting (Sandvik PrimeTurning) for Turning Profile. (#9073)
Fixed issue where Adaptive Clearing was not using plunge feedrate. (#8708)
Improved lead-in for finishing passes by extending beyond the safe distance for 2D Contour. This will avoid skipped passes in additional cases. (#9260)
Improved linking for Adaptive Clearing to avoid stay further away from stock when moving down outside of stock. (#9066)
Fixed issue where the minimum cutting radius setting affected 2D Contour toolpaths when it shouldn't (#8598)
Post library:
Added support for subprograms for Robodrill post.
Added post for Messer plasma.
Updated retract and coolant handling for DATRON MCR posts.
Added support for left-handed tapping and a self-reversing tapping head for Tormach PathPilot post.
Improved tailstock handling for Okuma LB3000 post.
Patterned operations can now be output using XYZ mode for HAAS mill-turn posts.
Fixed various issues for different machine types for Techno CNC Router post.
Fixed incremental Z output for Biesse CIX post.
Fixed retract handling for Bridgeport DX-32 post.
Fixed handling of machine orientation when using subprograms for posts.
Fixed retract handling for DATRON posts.
Fixed tailstock support for mill-turn posts.
Fixed tailstock support for Okuma LB3000 mill-turn posts.
Fixed tailstock support for HAAS mill-turn posts.
Updated G187 for HAAS posts.
Updated tool call handling for Grbl post.
General improvements for DATRON next post.
Improved retract and coolant handling for Siemens 802D post.
Improved retract and coolant handling for posts.
Updated work plane handling for posts.
DOWNLOAD LINKS:
https://rapidgator.net/file/4984576313a568bbcf4a14f4dac71b56/Autodesk_HSMWorks_2019_Build_R1.42987_x64.rar.html
https://uploadgig.com/file/download/29a7f09edb556427/Autodesk_HSMWorks_2019_Build_R1.42987_x64.rar
http://nitroflare.com/view/7C06CD6DAF9920C/Autodesk_HSMWorks_2019_Build_R1.42987_x64.rar
For other news, visit my profile every day!