Base Liga.Zakon Premium v.9.4.1 (DataCode 21.09.2018) Multilanguage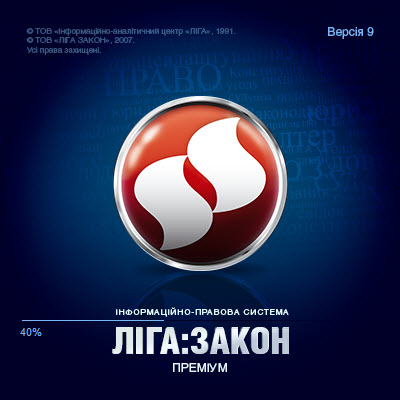 Base Liga.Zakon Premium v.9.4.1 (DataCode 21.09.2018) Multilanguage | 13.2 GB
The most complete source of systematized and reliable information for the information and legal support of the entire company.
Contains more than 1 000 000 different documents: all Ukrainian legislation, bills, comments on the codes
Accounting and legal advice; algorithms of actions, forms and forms.
Professional resources: Judicial practice, Legal precedents; Situations for business, Staff service, Bankruptcy of enterprises, etc.

Extras. information:
1. The archives are packed with the WinRAR archiver v. 5.2. When unpacking the archiver below version 5, errors will occur.
2. In the distribution of only the database on the date specified in the release title. They must be copied to the working folder of the program, after deleting the corresponding folders from it.
3. Also in the distribution there is a folder – "Useful" with the files necessary for the work.
4. Lined databases without errors, omissions and optimized.
Year / Release Date: 2018
Version: 9.4.1
Developer: LLC "Liga Zakon"
Developer's site: http://ligazakon.ua/ua/
Bit depth: 32bit, 64bit
Language: Multilingual (Russian is present)
Tabletka: absent
System requirements:
Operating system – Windows XP, Vista, 7, 8.0, 8.1, 10.
The file system is NTFS.
Processor type – Intel Core ™ 2 Duo 1.80 GHz, Intel Core ™ i3-330 and higher
RAM – 1 GB or more.
The screen resolution is 1280 * 800 and higher
Before installation, the hard disk must have 15.5 GB of uncompressed free space. The requirement for an empty space for installation with an increase in the number of documents will increase.
To receive parcels in LIGA systems: the LAW on the disk must be free 2 GB extra continuously.
At the time of the task "Optimization of the database", an additional 6.5 GB of free space is required.
At the time of the task "Restore the full-text index" you need an additional 7.5 GB.
To create a backup, you need to free up space on the disk, where a copy is created, equal to the volume of the system after installation.
It is recommended to save the backup copy to an external storage device (USB flash drive).
If the system is installed on the same partition where the operating system paging file is located, then in its free space calculations it is necessary to take into account its maximum size. As a rule, it is one and a half times larger than the amount of RAM installed in the computer.