Big Fish Audio Vibe XXL Hip Hop Horns KONTAKT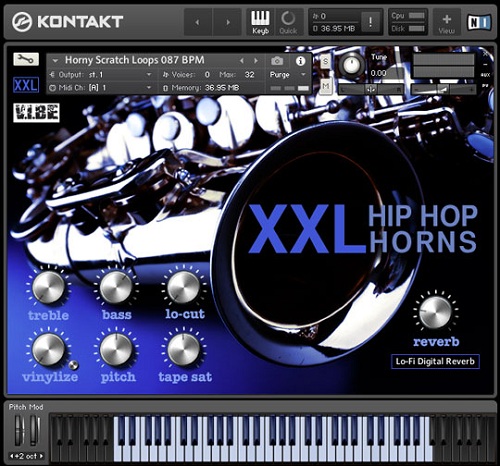 Big Fish Audio Vibe XXL Hip Hop Horns KONTAKT | 2.11 GB
XXL HIP HOP HORNS is a virtual instrument created for Kontakt 5.5 and above, designed specifically for Hip Hop producers, DJs, and beat-makers who want to add Royalty-Free solo horn hooks and horn section hooks to their productions.

XXL3X features all of the most popular types of horn elements used in Hip Hop, including:
– XXL Super-Heavy Horn Section Hooks: a collection of horn lines and hooks played by a massive-sounding horn section featuring tuba, bass trombone, and two bari saxes. Also includes a playable instrument patch so you can create your own XXL hooks.
– Horn Section Hooks: live-played horn lines and hooks in a variety of Funk, Soul, and R&B styles, played with a deep swing-feel so they sit right in the groove.
– Solo Horn Hooks: a huge collection of solo horn licks, squeals, and FX, ranging in style from Jazzy to Funky to just plain crazy. Includes solo bari sax, tenor sax, trumpet, and flute.- Scratched & Programmed Horn Hooks: funky turntablist scratch-loops and programmed loops created from solo and horn section samples.
– Sampled Hits, Chords & FX: a collection of stabs, chords, and long notes with a funky, lo-fi vibe…
Important: Funky Syncopation and "The One"
When you start using XXL3H, you'll notice that some of the loops in this VI seem to start late. That is, there's a second or two of blank space (silence) before the actual horn-loop can be heard.
This is not a mistake. It's actually the way some of the loops in XXL3H are supposed to play.
The reason is that not all the loops in XXL3H are supposed to start "on the one". Some of the horn lines and solo licks start later, which gives them a funky, syncopated feel. This is a horn-arranging technique that was used in many old school R&B and Funk horn lines, and is still used today in most types of modern Hip Hop and R&B.
The XXL3H GUI
The XXL3H Kontakt GUI features a set of easy-to-use controls and effects that allow you to make loops and one shots sound like they were sampled from an old vinyl LP – or not, if you prefer a cleaner sound.
https://www.bigfishaudio.com/detail.html?1;24;1::::::::::::XXL%20Hip%20Hop%20Horns:529601