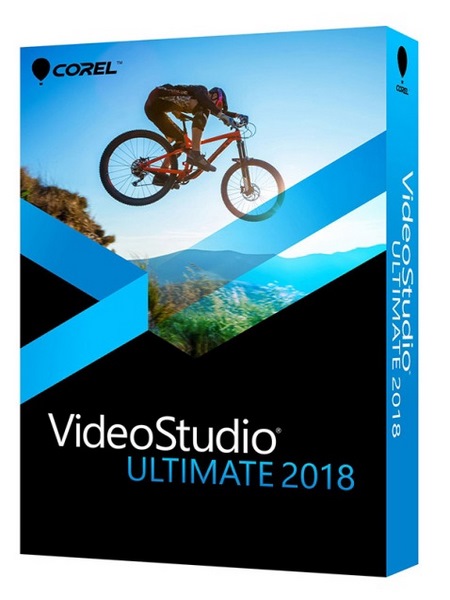 Corel VideoStudio Ultimate 2018 v21.4.0.165 (x64-x86) Multilingual Include Patch | Size 1.70 GB / 1.65 GB
Information:
Release Date : 2018
Languages : English / Multilanguage
Operating System : Windows 7 / Windows 8 / Windows 8.1 / Windows 10
System Type : 32-bit / 64-bit

Corel VideoStudio 2018 is an all-in-one video editor. It brings together creative editing, advanced effects, screen recording, interactive web video and total disc authoring.
The software is Ultra-fast and packed with intuitive tools. It lets you create everything from family movies and slideshows, to fun stop motion animations, and screen recordings of presentations, and more. Captivate your audience with professional video-editing software, Ultra HD (4K) capabilities and new Motion Tracking technology.Share your videos with native HTML5 video support for the web, DVD, Blu-Ray Disc and mobile devices.Get creative with advanced compositing and stellar creative effects. Tap into the full power of your multi-core processor with unprecedented speed.

Corel VideoStudio 2018 Pro Features:
——————————-
Multi-Camera Editor.
FastFlick template creation.
Optimized for 6th Gen Intel chips
HEVC support
Normalize Audio.
Audio Ducking.
Motion Tracking.
Media Library management.
Enhanced! Timeline.
Creative overlays.
Freeze frame.
Stop motion animation.
Variable speed.
Easy fades and transitions.
NewBlue FX Video Essentials II.
NewBlue TitlerEX.
Advanced customizable motion controls.
Subtitle Editor.
Multi-Trim.
Screen Capture.
Thumbnail Ticking.
Save your Favorites.
Perfect for all skill levels
FastFlick easy slideshows and videos
Instant Projects
Slideshows that impress
Easy 1-2-3 workflow
VideoStudio MyDVD
Integrated Audio Library
Time-lapse / Strobe Effect
Learning resources
XAVC S
Create videos for mobile devices
Complete disc authoring + video editing in one
Ready to share

Additional Features in Corel VideoStudio 2018 Ultimate:
—————————————————-
MXF support. Compatibility is enhanced with new support for XAVC files with MXF format from various professional camcorders.
NewBlue FX Video Essentials VII. Quickly add high-end effects to your videos with Auto Pan, Gradient Fill Pro, Quick Pixelator, Picture-in-Picture, color correction tools and more.
Boris Graffiti 7 Titles. With new title templates you can easily make sophisticated title animations. Such as type on text, text on a path, jitter, and randomization.
proDAD Adorage Starter Pack. Get creative with over 150 effects and transitions that help you create high-quality trailers, transitions, credits and more.
NewBlue FX Essentials IV. Solve everyday production problems and boost creativity with dozens of image-enhancing presets. Turn day into night, create reflections, touch up skin, enhance color and tone, and more.
proDAD Mercalli SE. Get video stabilization capabilities that ensure rock-steady video, no matter how fast the action. Rolling-shutter compensation removes wobble and skew caused when panning.
NewBlue FX Motion Effects. This popular plugin helps you correct common problems. Also it lets you make video clearer with more than 100 presets in 10 incredibly efficient tools.
proDAD VitaScene LE. Offers more than 100 broadcast-quality fully customizable professional effects, filters, and image enhancements.
proDAD Handscript Animation. Now you can instant turn your titles into realistic, near-magical onscreen handwriting!
NewBlue FX ColorFast. This integrated plug-in streamlines color correction and color grading in one simple workflow.
proDAD RotoPen. Animated pen effects let you draw on maps, illustrate with light or video Also it lets you apply animated pen effects to any path.
NewBlue Background Generator. Easily magnify and alter an image from your video into a beautiful backdrop. Also complete with a perpetual panning motion. Adjust magnify, sharpness, color and more to suit your needs.

http://nitroflare.com/view/EE2C8037A6C76FA/Meera169_Corel_VideoStudio_Ultimate_2018_21.4.0.165_x64-x86.part1.rar
http://nitroflare.com/view/C835CCB1A9F4877/Meera169_Corel_VideoStudio_Ultimate_2018_21.4.0.165_x64-x86.part2.rar
http://nitroflare.com/view/34E99B21A4DA7E0/Meera169_Corel_VideoStudio_Ultimate_2018_21.4.0.165_x64-x86.part3.rar
http://nitroflare.com/view/73B770B626934B7/Meera169_Corel_VideoStudio_Ultimate_2018_21.4.0.165_x64-x86.part4.rar

https://rapidgator.net/file/b7d41d19a61864dae41422709c7068da/Meera169_Corel_VideoStudio_Ultimate_2018_21.4.0.165_x64-x86.part1.rar
https://rapidgator.net/file/1e67f0488a122ea247f034b0aeefd978/Meera169_Corel_VideoStudio_Ultimate_2018_21.4.0.165_x64-x86.part2.rar
https://rapidgator.net/file/0bae7532df8ab6dfa1e65ca7075a296a/Meera169_Corel_VideoStudio_Ultimate_2018_21.4.0.165_x64-x86.part3.rar
https://rapidgator.net/file/7f94cbbd94ab8709d09eb36432587994/Meera169_Corel_VideoStudio_Ultimate_2018_21.4.0.165_x64-x86.part4.rar