Enscape3d v2.3.2.703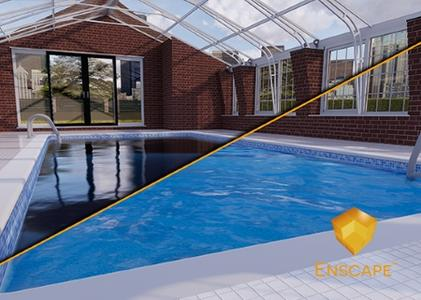 Enscape3d v2.3.2.703 | 208 MB
Enscape product team is pleased to announce the availability of Enscape 2.3, which is even more exciting to use, for both architects and designers. Besides the noticeable improvements to be found in the VR performance, this latest version also brings new functionality to help optimize your workflow.

Overwiew of new features and settings:
– ARCHICAD SUPPORT
You can now install Enscape for ArchiCAD and make use of all the known functions for Real-Time Rendering and virtual reality. Your materials, lights, etc. are instantly recognized and are automatically updated whenever you change them.
– VIDEO PATH
Creating a video path has never been easier in the AEC industry when using Enscape. Simply insert and edit keyframes, adjust Time of Day, Field of View or the camera movement.
– SCREENSHOTS IN VR
At any point during a walkthrough you can capture phenomenal scenes from your project whilst in virtual reality. Once captured, high-quality screenshots will be rendered as a batch once VR mode has been exited.
– STANDALONE
Enscape's standalone export feature enables your visualisations to run on your customer's computer, without them having to install additional architectural software. Set rendering quality or virtual reality with just one click.
– ADJUSTABLE WATER
With the enhanced water settings you can make your projects even more engaging. Decide whether you want quiet or turbulent water; adjust the water color to better compliment to your project
FURTHER IMPROVEMENTS
– Rendering quality of reflections has been improved (sharper during movement)
– Integrated Minimap in the Virtual Reality menu
– Smoother shadow transitions during time-lapse videos
– Export uncompressed video for post-production
– New materials in Revit and Revit 2019 now supported
– Proxies in SketchUp now reload automatically
– TGA textures are now supported in SketchUp's material editor
– Area lights are now available in SketchUp (Line, Rectangular, Disc)
– Improved grass rendering
– Transparent Textures now supported in Rhino
– Save Enscape views to Rhino
About Enscape3D. Enscape is a virtual reality (VR) and real-time rendering plugin for CAD Software. With just one click, you can start Enscape and within seconds walk through your fully rendered project – no uploading to the cloud or exporting to other programs required. All changes in CAD Software are immediately available to evaluate in Enscape. You are able to quickly explore different design options and present projects to clients.
If the client wants to see something different in the design, Enscape will immediately show the changes you make to the project, even in VR. With the option to create a standalone file of your architectural project, you can send an Enscape file to your clients or colleagues for quick demonstrations. Enscape has become a standard application in projects worldwide at companies like Foster + Partners or Kohn Pedersen Fox (KPF).
About Enscape GmbH. Enscape is a software company that first launched Enscape 1.0 in 2014. The aim of Enscape is to offer architects a time-saving opportunity to create the perfect 3D visualization of architectural projects without extra effort and to impress their customers by walking them through their model. The software has users from all over the world including companies like Foster + Partners and KPF.
Supported Architectures: x64
Language: english
System Requirements: PC
Supported Operating Systems: Windows 7even or newer
Required CAD Software: *
* The Enscape plug-in is provided for the following software:
– Revit* 2015, 2016, 2017, 2018 and 2019
– SketchUp Make & Pro 2016, 2017 and 2018
– Rhino 5.0 64bit and 6.0
– ArchiCAD 21 and 22
*Revit LT is not supported