Imindmap Ultimate v10.1.1 Multilingual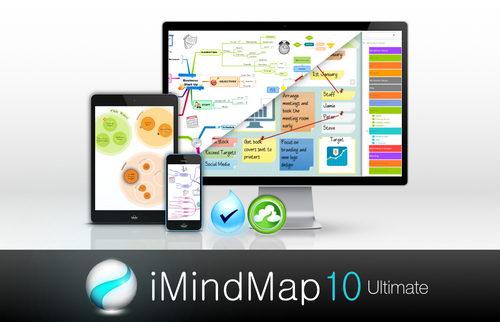 Imindmap Ultimate v10.1.1 Multilingual | 419 MB
iMindMap 10 has been polished and refined. A cleaner, sharper software for distraction free focus and sophisticated productivity. Crisper, cleaner and more intuitive than ever. New and updated features give you the fluidity required for big thinking and enhanced productivity.

What's New:
Time Map View
iMindMap 10 bridges the gap between Mind Mapping and timeline project planning with the addition of the new Time Map View. Switch to Time Map View to maximise every productivity enhancing benefit of iMindMap, and launch your ideas into action. Manage your projects from inspiration to completion in one efficient workspace.
Visually manage tasks as Mind Mapping meets project planning
Using a method that iMindMap fans are familiar with, simply click and draw to add colourful tasks to your project. Start a Time Map from scratch, or seamlessly switch from Mind Map to Time Map View to action your ideas. Select the branches you want to convert to tasks and sit back as iMindMap builds your Time Map for you. Colours, attachments, images and icons are carried over from your Mind Map. You can revert to any of iMindMap's Views at any time, without losing your changes, and add any finishing touches to your plans.
Navigate your Time Map effortlessly
The pop-up Navigation Menu will help you view connected tasks and navigate around large projects quickly. Simply click on a task to bring up the menu, and select an item to jump to a specific task. Task Connectors distinguish the relationships between your tasks, allowing you to spot your next course of action.
Track your progress with ease
See if your project is running to schedule and view key dates and deadlines at a glance with the Task Status System. Set your tasks as started, put on hold, or mark as complete by adding a colour coded icon to it. With a clear visual overview of your key responsibilities, it's simple to assess where your time is best spent.
Seamless project management
For real-time team collaboration, export your Time Map View projects into task management app, DropTask for Business. iMindMap's integration with DropTask will take your ideas across the finish line.
Explore the Time Map View Toolbox (Only in Ultimate):
Time Map Tasks
Quickly add visually vibrant tasks by double clicking on the Time Map. Click or draw to add related tasks, and drag to resize.
Time Map Milestones
Milestones, at the bottom of your Time Map, act as visual reference points to highlight key stages in your project.
Time Map Connectors
Mimicking the flow of Mind Map branches, Task Connectors clearly distinguish the relationship between tasks.
Current Time Indicator
Once a day has passed, the Current Time Indicator acts as a visual reminder of uncompleted tasks.
Email Share Option
Send full projects or specific tasks to others via email to keep everyone on the same page.
Time Map Time Scale
Set custom start dates and durations for your projects, and adjust them when unexpected changes strike.
Time Map Tags
Assign teams or individuals to tasks with Tags, and filter your project using the Tags of your choice.
Time Map Images and Icons
The Image & Icon Library will help you to customise your projects, and you can even upload your own.
Swimlanes
Visually categorise information and highlight task responsibilities by grouping them with Swimlanes.
Time Map Links and Attachments
Add extra details to your project without cluttering your Time Map by attaching text notes, web links, and files.
Export as image
Export your Time Map as an image for a professional-looking snapshot of your project to share with others.
Time Map Export as image
Export your Time Map to Microsoft Project to organise tasks. Date information is taken across to display as Gantts and Charts.
Branch Drawing Tool (BETTER!)
Create Mind Maps more intuitively with iMindMap 10's updated Branch Drawing Tool. Ideas flow better than ever with a new branch drawing technique designed to feel organic and effortless. Personalise every branch quicker than ever with our all-new quick access Pop-up Edit Menu. iMindMap 10's refreshed Branch Drawing Tool delivers the most natural Mind Mapping experience to date.
Mind Map Library Integration (NEW!)
The all new Biggerplate Mind Map Library Integration allows you to search and download thousands of templates from within iMindMap. Double your productivity with seamless access to time-saving business, educational and personal templates. Whatever your goals, use the Mind Map templates as a starting point for your personal projects or to spark inspiration for your own creations, then edit them to suit your needs.
Optimised Brainstorm View (BETTER!)
Capture and group ideas together seamlessly with the Brainstorm View improvements. Brand new features, including lists and conversion tools, are ideal for quick updates to developing ideas. From speaking prompts to revision tools, the new Flashcards can be used to keep extra information hidden until needed.
Enhanced Fast Capture View (BETTER!)
New visual Fast Capture View updates bring your thinking to life. Add cover images to your idea bubbles and change their colours to categorise your ideas and boost your ability to recall them. This view has never looked better, and now you can export and share your creations as memorable images with others.
Tags & Icon Manager
iMindMap 10 offers a streamlined way to categorise information with new Tags*. Create Tags that are unique to you and your goals, and assign them to branches, sticky notes and idea bubbles. Visually categorise information with the new Icon Manager. Import your own icons and add them to your workspace, whether that be Mind Map, Brainstorm or Fast Capture View, and find information at a glance. A powerful filtering system helps you refine your project by Tags or icon to find information quickly.
Minimum System Requirements:
– Vista (32/64-bit), Windows 7 (32/64-bit) or Windows 8, 8.1 and 10 (32/64-bit)*
– 1GHz or faster processor
– 1GB RAM
– 400MB free hard disk space.