MacOS High Sierra 10.13.4 (17E199) (Flash drive for installation) Legacy UEFI GPT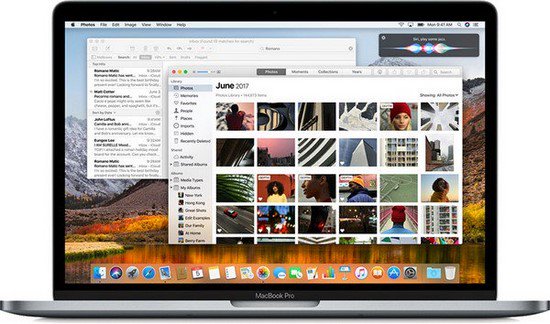 MacOS High Sierra 10.13.4 (17E199) (Flash drive for installation) Legacy UEFI GPT | 4.98 GB
macOS High Sierra Your Mac. Excellence. New technologies used in the operating system, make the Mac more reliable, functional and fast. Now he is ready for future innovations. In addition, the macOS High Sierra has improved features and applications that you use every day. macOS took a new height. It's out this fall.
Move mountains with new technologies.
New base technologies in macOS High Sierra have allowed to improve the basic functions of Mac. Today, Mac is a new storage architecture, improved video viewing capabilities, full access to the resources of powerful graphics processors. And not only.
Apple file system. New top-management data.
Documentation. Photo. Mail. Applications. Everything that's so important to you is perceived by the Mac as data. And the file system is responsible for organizing this data in the form of files and folders and gives you access to them. Our previous file system was developed for the early Mac models and perfectly coped with their tasks. But the modern Mac works on the basis of flash drives, and this opens up great opportunities for innovation. Therefore, it's time to lay the foundation for the future. In macOS High Sierra, we are introducing for the first time on Mac the Apple file system with an improved architecture that provides a new level of security and speed.
HEVC. The new video standard.
On the growing popularity of video 4K Mac meets the new standard HEVC (High Efficiency Video Coding), also known as H.265.1 It is able to compress video up to 40% stronger than the current H.264 standard. Therefore, video files in HEVC format are transmitted faster and take up less space without sacrificing quality.
Metal 2. New graphics rules.
Today, for effective work on the Mac, the graphics processor is more important than ever. And graphics processors are becoming more and more powerful. Metal technology, built into macOS, allows applications to use the graphic potential of the computer to the maximum. Its new version of Metal 2 is not only a new level of image quality, but also the possibility of machine learning, support for virtual reality and external graphics processors in entertainment and professional applications. With Metal 2, you can incorporate the imagination into full power – and playing games, and creating content, and developing software.
What News?
This update is recommended for all macOS High Sierra users.
The macOS High Sierra 10.13.4 Update improves the stability, performance, and security of your Mac, and is recommended for all users.
This update:
Adds support for Business Chat conversations in Messages in the U.S.
Adds support for external graphics processors (eGPUs).
Fixes graphics corruption issues affecting certain apps on iMac Pro.
Allows jumping to the rightmost open tab using Command-9 in Safari.
Enables sorting of Safari bookmarks by name or URL by Control-clicking and choosing Sort By.
Fixes an issue that may prevent web link previews from appearing in Messages.
Helps protect privacy by only AutoFilling usernames and passwords after selecting them in a web form field in Safari.
Displays warnings in the Safari Smart Search field when interacting with password or credit card forms on unencrypted webpages.
Displays privacy icons and links to explain how your data will be used and protected when Apple features ask to use your personal information.
Enterprise content:
No longer disables User Approved Kernel Extension Loading on MDM-enrolled devices. For devices with DEP-initiated or User Approved MDM enrollment, administrators can use the Kernel Extension Policy payload.
Improves Spotlight search results for files stored on network mounts.
Properly evaluates ACLs on SMB share points.
Adds the –eraseinstall flag to the startosinstall command in the macOS Installer app at Contents/Resources/startosinstall. Use this flag to erase and install macOS on a disk. For details, run startosinstall with the –usage flag.
Updates System Image Utility to allow creating NetInstall images that erase and install macOS to a named target volume.
See Apple Security Updates for detailed information about the security content of this update.
DOWNLOAD LINKS:
https://rapidgator.net/file/c7fee95743ef0330cd8d1bfd2070a565/10134usb.part1.rar.html
https://rapidgator.net/file/b16e68a2694bfb75ad3a58870f331ee5/10134usb.part2.rar.html
https://rapidgator.net/file/8bbd58a54f29c9d9cfcd4273ccc25e68/10134usb.part3.rar.html
https://rapidgator.net/file/4ea301179441f54b4ebab44f0658bcaa/10134usb.part4.rar.html
https://rapidgator.net/file/0c7f3729ca57a4a903f9c86ba8509d73/10134usb.part5.rar.html
https://uploadgig.com/file/download/09b96180a7958E67/10134usb.part1.rar
https://uploadgig.com/file/download/e6a25967fde10226/10134usb.part2.rar
https://uploadgig.com/file/download/0DbE820b60c499f9/10134usb.part3.rar
https://uploadgig.com/file/download/B299d38088cd4748/10134usb.part4.rar
https://uploadgig.com/file/download/2A5709A993a0ee9c/10134usb.part5.rar
http://nitroflare.com/view/C95C5A6B3037F86/10134usb.part1.rar
http://nitroflare.com/view/92A6DFA6A9E1ACA/10134usb.part2.rar
http://nitroflare.com/view/337AFFAAEE4E1D8/10134usb.part3.rar
http://nitroflare.com/view/64E7864BCF7582E/10134usb.part4.rar
http://nitroflare.com/view/A278E37EC9BA0A1/10134usb.part5.rar
For other news, visit my profile every day!