MCS Drivers Disk v.18.08.10.1451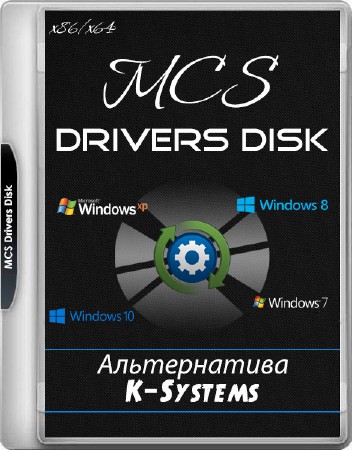 MCS Drivers Disk v.18.08.10.1451 | 27.9 GB
Language: Russian, German, English, Ukrainian, French.
This disk is a collection of drivers with the ability to install the necessary drivers in a few clicks. The program automatically determines which drivers are required for this computer. Works with standard installers, unpacked drivers.

Supported OS:
• Windows 2000 SP4
• WindowsXP 32/64 bit
• Windows2003 32/64 bit
• Windows Vista 32/64 bit
• Windows 2008 32/64 bit
• Windows 2008 R2 64 bit
• Windows 7 32/64 bit
• Windows 8 32/64 bit
• Windows 2012 64 bit (не тестировалось)
• Windows 8.1 32/64 bit
• Windows 2012 R2 64 bit (не тестировалось)
• Windows 10 32/64 bit
• Windows 10 Server 64 bit
Detected devices:
• Chipset
• Videos
• Audio
• NIC and PCI modems
• HDD controllers
• IEEE 1394 Host Controllers
• USB Host Controllers
• CardBus controllers
• USB Devices
• LPT printers
• Serial external modems
• PCMCIA devices
• Some common ACPI devices.
The number of drivers found by the program for an OS depends only on the availability of such drivers on the disk (rests on the volume of the disk) and the correctness of the paths in the corresponding configuration files. Users can add or remove drivers from the disk themselves and replenish the HWID database.
This program was written for yourself and friends and, accordingly, is supplied by As Is (As Is). The drivers on the disc have not been tested for compatibility with all the OSes for which they are claimed. The author does not bear responsibility for any damage caused by the use of this program.
Extras. information:
This version uses only the extended driver database (* _ DBX.ini) + index files (*. Idx) to speed up the search procedure. Not compatible with versions 9.x and below.
Known Issues:
The program sometimes crumbles. (Fixed by disabling Auto Status request in the settings)
Changes in the version v.1.08.08.10.1451:
[+] Added support for determining AMD Ryzen Treadripper processors
[+] Added Driver Fusion v6.1.1 (win7 + need framework 4.7.2)
Updated some drivers to the current versions and added new ones.
Updated Microsoft .NET Framework v1.0_4.7.2 from Diakov!
Updated Crystal DiskInfo to v7.7.0
Updated Crystal DiskMark to v6.0.1
Updated Display Driver Uninstaller v17.0.9.1
Updated SIV to v5.32
Updated HWiNFO to v5.86 – 3480 (stable)
Updated CPU-Z to v1.8.6
Victoria updated to 4.68b
Updated ASoft .NET Version Detector to v18R1
The device database has been updated.
Updated the language file.
System requirements:
• Bit depth: 32bit + 64bit
• Compatible with Windows 2000
• Compatibility with XP: complete
• Compatibility with Vista: complete
• Compatible with Windows 7: full
• Compatible with Windows 8: full
• Compatible with Windows 8.1: full
• Compatible with Windows 10: full (TP build 9885 and higher)