Microsoft Dynamics 365 v9 (x64)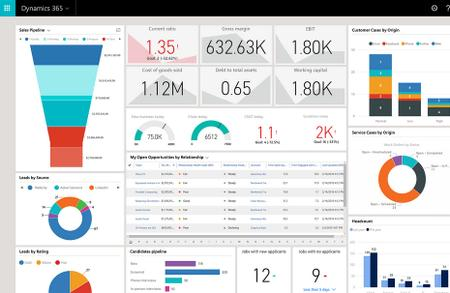 Microsoft Dynamics 365 v9 (x64) | 1.1 GB
Microsoft Dynamics 365 is a cloud-based business applications platform that combines components of customer relationship management (CRM) and enterprise resource planning (ERP), along with productivity applications and artificial intelligence tools.

Dynamics 365 launched in 2016, when Microsoft combined Dynamics AX — its ERP application — with its Dynamics CRM application. Microsoft was one of the first major vendors to combine the capabilities of ERP and CRM natively.
Dynamics 365 apps and features:
The Dynamics 365 suite is available in two editions, Business or Enterprise, each with different levels of features and applications.
Companies can choose from the following Microsoft Dynamics 365 applications and features:
Customer Insights — Combines customer data from Dynamics 365, Office 365 and third-party data sources, and helps users find actionable insights from that data. Includes Power BI for analytics and visualization, and artificial intelligence tools to identify customer behaviors and provide predictive scoring.
Customer Service — Omnichannel customer engagement tools, customer self-service and communities, and tools for support agents.
Field Service — Scheduling resources, contract management, inventory management, insight into internet of things-connected products and customer communications tools.
Finance and Operations — Financial management with reporting and analytics; manufacturing tools for project management, production planning, scheduling, and cost management; and warehouse and inventory control tools for supply chain management.
Marketing — Connects Dynamics CRM to Adobe Marketing Cloud to provide campaign management and targeted, personalized marketing tools.
Project Service Automation — Project planning, resource scheduling, time and expense management, and service analytics.
Retail — Unified commerce tools, store and employee management, merchandise management and operational insights.
Sales — Provides intelligence on prospective customers, personalization and customer engagement, sales productivity and performance metrics.
Talent — Human resources cloud services is connected to LinkedIn to manage all areas of HR, from attracting, hiring and onboarding new employees to managing HR programs.
System Requirements:
OS:Windows 7/8.1/10
CPU:Quad-core x64 architecture 2 GHz CPU or higher such as AMD Opteron or Intel Xeon systems
Memory:8 GB RAM or more
Space:10 GB of available hard disk space.