Sony Vegas Pro v.13.0 Multilanguage (x86-x64)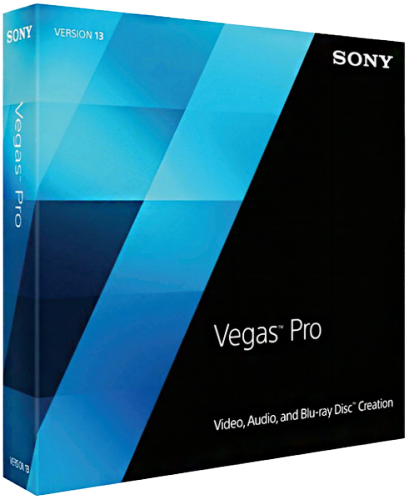 Sony Vegas Pro v.13.0 Multilanguage (x86-x64) | 482 MB
Professional program Sony Vegas Pro is designed for editing, editing and multitrack recording of video and audio streams. The program has in its arsenal tools that allow real-time processing and editing of HDV, SD / HD-SDI, DV, AVCHD and XDCAM ™ formats, fine-tune audio, create audio with surround sound and dual-layer DVDs. To save a record in high quality, you can burn Blu-ray discs directly from the timeline. It will not be difficult for you to create a standard DVD with complex videos, multilingual menus, subtitles and comments.

Vegas offers an infinite number of video and audio tracks, each of which has its own pair of (A / B) tracks, advanced music compositing tools, supports multi-channel I / O in full duplex mode (26 physical outputs with independent mixing bus can be output on each), real-time resampling, automatic creation of crossfades, synchronization via MIDI Time Code and MIDI Clock, dithering on subgroup outputs and, of course, 24/32-bit audio with a sampling frequency of 192 kHz. For real-time audio processing, you can set a four-band parametric equalizer and compressor for each track, and use 32 sends to DirectX plug-in modules. Different data formats can be added to the same track simultaneously, without conversion or rendering. In addition, the program supports and "advanced" features, such as working with two processors and two monitors.
Extras. The information: Without viruses !. all the files in the distribution are fully tested for virustotal 0 \ 57, the original program installer, downloaded from the developer's site. Installation does not require complicated dances, if you are an inexperienced user, watch the video instruction. Before installation, it is desirable to turn off the Internet. If there are problems below there is a spoiler "Different problems and their solutions from users" We read, we are looking for your problem and its solution. Advice from "Valet2" Install the K-Lite Mega Codec Pack, select Lots of stuff during the installation process, answer all the questions in the affirmative. If you have mistakes after Russification, go to the English version, localization is artisanal and does not guarantee normal operation.
Year / Release Date: 2014
Version: 13 Build 454
Developer: 2003-2013 Sony Creative Software, Inc. All Rights Reserved
Bit depth: 32bit, 64bit
Language: Multilingual (Russian is present)
Tabletka: present
System requirements:
Windows® 7, 8, or 8.1 operating system (64-bit)
2 GHz processor (multicore or multiprocessor CPU recommended for HD or stereoscopic 3D; 8 cores recommended for 4K)
1 GB drive space for program installation
SSD or high-speed multi-disk RAID for 4K media
4 GB RAM (8 GB recommended; 16 GB recommended for 4K)
OHCI-compatible IEEE-1394DV card (for DV and HDV capture and print-to-tape)
USB 2.0 connection (for importing from AVCHD, XDCAM EX, NXCAM, or DVD camcorders)
Windows-compatible sound card
DVD-ROM drive (for installation from a DVD only)
Supported CD-recordable drive (for CD burning only)
Supported DVD-recordable drive (for DVD burning only)
Supported BD-R / -RE drive (for Blu-ray Disc ™ burning only)
GPU-accelerated video processing and rendering requires an OpenCL ™ -supported NVIDIA®, AMD / ATI ™, or Intel® GPU with 512MB memory; 1GB for 4K.
Microsoft .NET Framework 4.0
Apple® QuickTime® 7.1.6 or later for reading and writing QuickTime files
Internet Connection (for Gracenote MusicID Service)