Soundiron Cruiser KONTAKT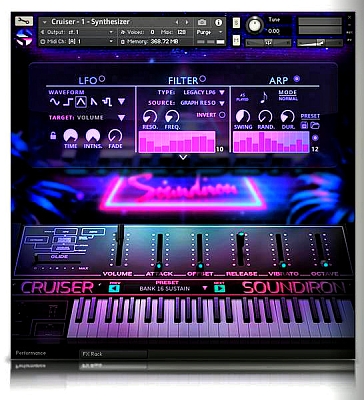 Soundiron Cruiser KONTAKT | 2.11 GB
Soundiron – Cruiser captures this nostalgic sound of a vintage synthesizer from the 80s, perfect for vaporwave, chillwave, nu-disco, new retro wave and similar genres. This classic 49-key subtractive synthesizer was built by the Italian electrical company Siel back in 1981.

Siel Cruise actually contains two different synthesizers: monophonic and polyphonic, each with its own options and settings. We captured the retro-futuristic feeling of neon atmosphere by recording 16 different pre-established banks with endless sustains and close staccato.
We also created 20 stunning designer synthetic and FX presets that highlight the versatility of this library, from leads to pads and rhythmic presets. With Soundiron Cruiser, you can double the lead guitar to boost it or put this great synth in the vanguard of the next big synth track.
We pack a GUI with a lot of great sound controls that give you the ability to shape your sound in a variety of ways. You have control over volume, attack, release, transients, vibrato and octave. Control slider «Glide» allows you to play legato and portamento. You will also find an adaptable LFO system, with selectable waveform, modulation target parameter, speed, intensity, tempo synchronization, and decay time.
You can also use 13 bandwidth filters and an effect filter, with the ability to assign modulation parameters, including speed, modulation wheel, expression, aftertouch, key position and control of the sequencer table. You can also use our customizable arpeggiator with a built-in velocity sequencer table and control the direction of arpeggios, note time, randomization, and duration.
The cruiser was recorded in the studio using a pair of Neumann TLM 103 microphones. We recorded the presets with the sustain and staccato of each key. Built-in vibrato and FX-rack provide a simple and convenient interface for full customization and the formation of its fat analog sound in accordance with many creative styles.
The library is equipped with flexible control functions such as Swell, pitch Glide, Attack, Release, Vibrato and Octave. There is also a full set of DSP effects, including a convolution reverb with many unique spaces, such as cathedrals, churches, halls, bunkers, garages, tunnels, cameras, rooms and many otherworldly FX pulses for a complete study and an endless variety of strange and unexpected manipulations.
Publisher: Soundiron
Format: KONTAKT 5.5.2+
Quality: 24 bit 48 kHz stereo