ThePhonoLoop Texture Mozaik.01 KONTAKT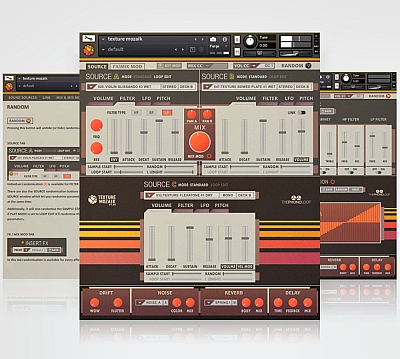 ThePhonoLoop Texture Mozaik.01 KONTAKT | 7.7 GB
Texture Mozaik contains over 120 unique sound sources all inspired by the sounds of the past when recording on tapes, cutting them, then gluing and looping, passing through spring reverbs, etc. was on the agenda.

You'll find here gloomy, dirty sounds but also those subtle, delicate ones which can be complementary to these first. For example, one of the sounds included in Texture Mozaik is an bowed acoustic guitar whose strings were connected by a spring with a metal pot hanging on a tripod – which worked as an additional resonator. You will also find here a lot of classic sounds such as violin, chromatic bells, bowed saw, flute and more. As always, all included sounds were passed through several different cassette decks.
Every sound source has been carefully denoised with a high quality algorithm to avoid noise stacking when playing more than one note (there's still some noise left in the samples to avoid denonising artifacts). Noise can still be added with the noise knob – it's much more flexible this way and allows the ability to adjust the volume of the noise independently whilst also applying parameters such as filtering. It also creates a more realistic sound, so when playing a few notes at the same time, only one sample of noise instead of few stacked on top of each other will be heard.
From the technical point of view there are 3 kind of sound sources in Texture Mozaik:
Standard – looping available in both STANDARD and LOOP EDIT modes – available in SOURCE A, SOURCE B and SOURCE C
Impacts – looping available only in LOOP EDIT mode, 4 round-robin samples – available only in SOURCE C
Textures – looping available in both STANDARD and LOOP EDIT modes, no pitch tracking, one voice per SOURCE (can't play chords) – available in SOURCE A, SOURCE B and SOURCE C
https://thephonoloop.com/products/texture-mozaik-01