Vero Surfcam 2019 R1 SU4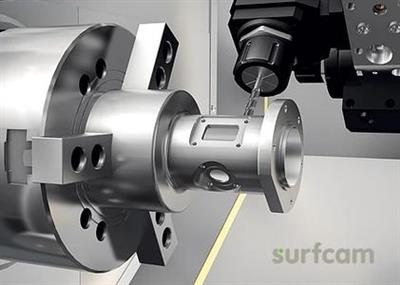 Vero Surfcam 2019 R1 SU4 | 3.8 Gb
Vero Software has released an update to Surfcam 2019 R1, is CAD/CAM system is designed for 2D and 3D modeling and features easy-to-use CNC programming for two-, three-, four- and five-axis machining.

Surfcam 2019 R1 SU4 (Build 29695)
SCAM-48729 File Save-Error cross referencing part file whilst saving
SCAM-48160 File Open-Incorrect machine position upon opening part file
Surfcam 2019 R1 SU3 (Build 26957)
SCAM-6334 Roughing-Waveform-Conventional milltype approach in helix instead of pre-drill
SCAM-6086 Update Stock and Simulator-Regenerate duplicates stock on attached file with multiple sequences
SCAM-36204 PCI-Reload Solid should browse for file path like when done from the Feature browser
SCAM-47018 Roughing Cycle-Spiral Strategy changes to Concentric
SCAM-47744 Roughing Cycle-Error 'Update stock failed to produce triangles for component'
SCAM-48759Create Turning Sequence-Error messages when selecting Sub Spindle
Surfcam 2019 R1 SU2 (Build 25826)
SCAM-47114 SpaceClaim-support for SpaceClaim 19.2 files
SCAM-48607 Language-Polish translation of migration tool displaying incorrect characters.
SCAM-45252 Extrude-Designer hangs extruding attached file
SCAM-48218 Code Generator-Hangs when hole cycle is removed due to a collision
SCAM-47554 Language-Ribbon-Edit > 'Translate' has changed to 'Transform'
SCAM-48075 NC Code -Random '_Containment.ptss' file is generated
Surfcam 2019 R1 SU1 (Build 24110)
SCAM-47582 Support Solidworks 2019 files
SCAM-41397 CADLinks-support for Creo 5.0
SCAM-41607 Support NX 12 files
SCAM-46932 MCGetSequenceInfo returns bad data
SCAM-47736 Themes-Custom Theme causes crash after closing Surfcam
SCAM-47188 Editor-licensing information is missing
SCAM-47424 Create Turn Sequence-Sub Spindle-Workplane is deleted on new Sequence
SCAM-46900 PCI-Recording the creation of a sequence in Polish generates an incomplete macro
SCAM-47470 Fixture Database-Don't disable button after changing fixture
SCAM-47640 Simulator-Incorrect tool rendering
SCAM-33515 Simulator-Fatal Error crash due stock model
SCAM-45351 Language-Formatting of text on some Surfcamdialogs is poor
SCAM-47896 PCI Template-Parameters Different when Running
SCAM-7066 Rough Waveform Turn-Completely gouges model if using Current Stock
SCAM-47623 Live Job Reports-Upgraded database from TSAdminfails with Object cannot be cast from DBNull to other types
SCAM-14248 Index-BA head head machine reports a false "limit has been exceeded"
SCAM-47825 Launcher-Crashing after being left open
SCAM-47939 Instruction Sequence-Cycles cannot be edited or deleted and randomly move causing error on file save
SCAM-6502 Finish Groove-Unwanted extension applied when using Break Radius corner type
About Vero Surfcam 2019 R1. Surfcam is a CAM solution that achieves the perfect balance between feature sets and ease of use. With an unrivalled out of the box experience, SURFCAM provides a great entry-level CAM platform, full of functionality and one to help your business become even more productive and profitable.
SURFCAM customers also have the added benefit of maintaining associativity between their SURFCAM toolpaths and SOLIDWORKS parts and assemblies in their CAD/CAM, design thru manufacturing environment. SURFCAM's powerful associativity enables NC programmers to open native SOLIDWORKS files directly into Surfcam, completely eliminating the translation process. When changes are made to the SOLIDWORKS design models, Surfcam automatically recognizes the design revisions and offers to regenerate the affected toolpaths within SURFCAM's Operations Manager. With this simple and seamless interoperability between these two systems, SURFCAM users can quickly adapt to SOLIDWORKS design changes and efficiently update their programming environment.
The partnership of Surfcam and SOLIDWORKS provides a smart, simple and efficient solution for NC programmers who required ease-of-use and world class precision and control over their NC programming environment.
Surfcam 2019 R1 Includes New Module For Additive Machining Responding to the increase in hybrid manufacturing, the latest release of Surfcam introduced a new Additive Machining module. Supporting the Direct Energy Deposition method, SURFCAM now offers a dedicated manufacturing cycle which accurately guides a laser, as it deposits material to form a shape. After that, the shape is machined using SURFCAM's milling cycles to create the final component.
As Surfcam 2019 R1 now offers full ToolStore support for Additive Manufacturing, shapes can be built using almost any milling cycle…including advanced functions such as rotary and 5-axis simultaneous machining. In total, SURFCAM 2019 R1 includes around 30 individual enhancements.