Windows 7 SP1 9In1 Oem Esd En-Us 2018 (x64)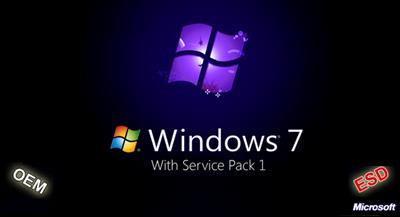 Windows 7 SP1 9In1 Oem Esd En-Us 2018 (x64) | 3.13 GB

• File: WIN7X64.ENU.NOV2018.iso
• Size: 3,14GB
• Format: Bootable ISO
• Source: X17-59465
• Language: English (US)
What's New:
• Internet Explorer 11
• .NET Framework 4.7.2
• DirectX End-User Runtimes (June 2010)
• Important & Security Only Updates:
Monthly Rollup: KB4467107
Security-only update: KB4467106
• Windows Defender Updates
Editions Included:
• Windows 7 Home Premium – STD / DAZ / OEM
• Windows 7 Professional – – – – STD / DAZ / OEM
• Windows 7 Ultimate – – – – – – – STD / DAZ / OEM
STD = Standard installation – For those with own License Key
DAZ = Activated by DAZ Loader v2.2.2.0
OEM (Original Equipment Manufacturer) will automatically activate original version installed by Manufacturer.
Pre-Activated index will auto-reboot to complete the activation.
Features:
• UEFI-ready
• Diagnostics and Recovery Toolset 10.0 (Microsoft DaRT)
• install.wim compressed to recovery format (install.esd).