Xtant Audio Dicky Deegans Uilleann Pipes KONTAKT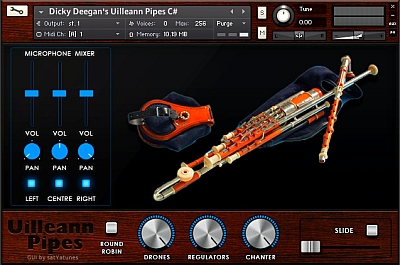 Xtant Audio Dicky Deegans Uilleann Pipes KONTAKT | 1.2 GB
Irish bagpipes is one of the most complex traditional Irish instruments, but now, thanks to the Kontakt sampler, anyone can play on it … yes, even you!
The library contains five tools: D, D untamed, C #, C # untamed and the noise of furs. Irish bagpipes – the national instrument of Ireland. It is a complex tool consisting of several tubes, an air bag and a set of bellows used to inflate the bag. This library contains two complete sets of pipes, each of which is equipped with a chanter, a burdon and regulators, including a rare double bass knob.

Execution – Our goal was to take the components of this complex instrument and arrange them on the keyboard in such a way that it would be easy for you to play.
Bourdon – Just like in a real tool, Bourdon can be turned on or off with one key for each pipe. These switches are velocity-sensitive, which works great in a DAW, because it prevents the switches from malfunctioning when you play your note sequence.
Regulators (additional pipes) are polyphonic and can play chords. For notes that are available on several regulators, you can choose which tube samples will run, which will give the playback an additional realism effect.
Chanter – monaural. When playing with overlapping notes, it will launch legato and we have enabled the retrigger function, which is ideally suited for playing the trill. Using the sliders, you can perform formant correction.
Advanced – To help you get realistic, we have included an additional Kontakt tool with a set of mech noise samples. These are recordings by Dicky, who fills the bag with air before and during its performance. These samples have different lengths and intensities.
Maximum control – One of the advantages of sample libraries is the ability to do what is impossible to do on a real instrument. With Dicky Deegan's Uilleann Pipes, you control not only the volume of the three microphone positions, but you can also establish a balance between the drone, regulators, and the chanter. This is incredibly useful for adapting instruments to different musical contexts or incorporating them into ensembles.
Publisher: Xtant Audio
Format: KONTAKT 4.2+
Quality: 24 bit 48 kHz stereo
https://xtant-audio.com/product/dicky-deegans-uilleann-pipes